Iowa Certified & Licensed, 2007
Raindrop Technique Workshop, 2007
Deep Tissue Massage: Safe & Effective Techniques for Common Problem Areas, 2010
Chakra Stone Massage Therapy, 2010
Massage & Migraines, 2011
Massage Techniques for the Foot & Leg, 2011
Massage & Fibromyalgia Syndrome, 2013
Massage & Carpal Tunnel Syndrome, 2013
Intro To Lymphatic Drainage Therapy, 2013
Massage Techniques for Fibromyalgia, 2014
Palpation & Assessment Techniques, 2015
PNF/MET Massage Techniques, 2015
Qi Gong & Tai Chi: Self Care for the Massage Therapist, 2017
Stress Management During Turbulent Times: Understanding, Treating & Managing Stress, 2017
Massage for the Hip, 2017
Conservative Management for Patients w/ Sacroiliac Joint Dysfunction, 2017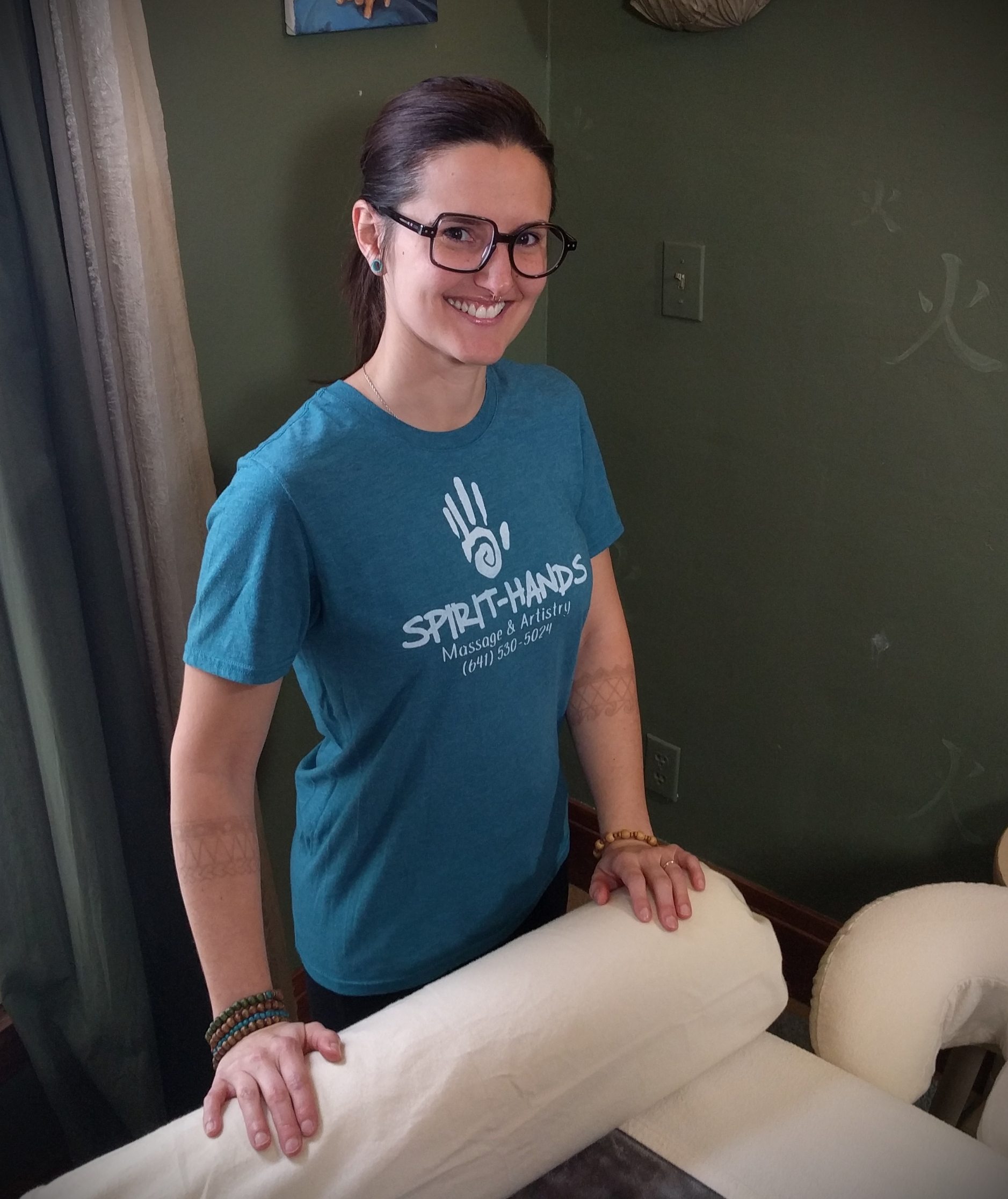 Professionally, I've been certified and licensed to practice Therapeutic Massage and Bodywork in the state of Iowa since 2007. I've used this time to experience various modalities from teachers of differing approaches, but the same goal, and that is to deliver well-being to our clients safely and ethically. In addition, I've given public presentations on massage and essential oils in Garner and Mason City, as well as provided chair massages at annual events such as the Iowa Farm Progress Show, high school post-prom parties, and Clear Lake's Thursdays on Main.
Personally, I'm involved in the Mason City Volunteer Center, the American Foundation for Suicide Prevention, and support water.org. I've also contributed my art and services to charity events and participate in annual mud runs that raise funds for local communities, US veterans, and rescuing children from sex trafficking.
I've pursued artistic expression and walked the path of earth religions my entire life. Peoples of the earth, across space and time, have recognized that an essence resides in all things and for this reason should be honored. Just as our bodies house conscious souls, so do the plants we eat, the animals we keep, and the rocks over which we step. We all have a spirit-consciousness and we all share an interconnectedness for we are all a part of the Sacred Dance of Life. By the simple merit of being alive, we are worthy of good things including peace, beauty, and healthfulness. Spirit-Hands is my endeavor to share this reverence with others.
I do not claim to be the end all, for the bowl of medicine I offer is but one amongst a banquet of healers and there is much to share and partake of. If I made claims that my medicine was all you needed, then my bowl would prove to be very shallow indeed and you would find yourself scraping the bottom of it quite soon. But if you take some from my bowl and some from another's, then we come to see how very much we have when we contribute as a community. And I am not too proud that I can't enjoy having some from the bowl of other healers, for the sharing of sacred wisdom is how we learn and grow.